When your potential clients search for you online, does your company appear at the top of the listings or do you see your competitors? We can fix that, guaranteed!
We work with many different industries including:
RV Dealers
Powersports Dealers
Motorcycle Dealers
SEO and SEM: what's the difference??
Search engine optimization (SEO) and search engine marketing (SEM) are often used interchangeably, but that's wrong.  Basically, SEO is a form of SEM.  But further than that, SEO is organic.  Which means, SEO is earned.  The rest of SEM are things you pay for, including sponsored content and advertisements.
That kind of covers SEM, in a nutshell, but what is SEO, specifically, and why is it vital for today's marketing?  SEO is what directs consumers to your business website, content, social media, etc.  It's what puts your services or products on the first page of Google and other search engines.  Studies show that consumers stop at the first search engine results page.  The data below was obtained from Google search results page traffic.  Never Stop guarantees that your business gets on the first page within 90 days or your money back.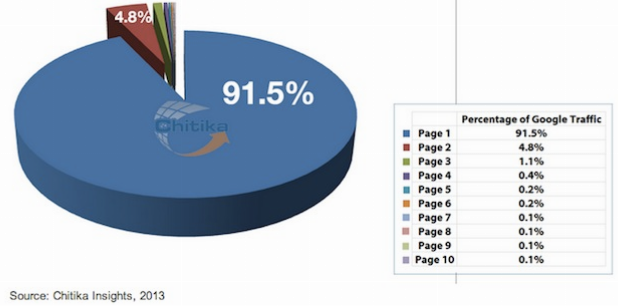 Wondering your website's SEO rank?  Check your site with our SEO technology.
More about our SEO service
If you're currently paying for visibility with "pay per click" ads, you're paying 5 to 20 times more per visit than you should be paying.  Never Stop Digital has helped over 10,000 businesses stop their PPC.  Those businesses typically see 5 times more website traffic at one-third of the cost they were paying for PPC ads. How does that translate?  A lot more opportunities for a fraction of the cost. There is no better marketing value than organic search traffic. W know because we have 16 years experience in search marketing.
Additional SEM services 
Whether your "pay per click" (PPC) digital advertising campaign is already up and running or you need to create one, the experts at Never Stop SEO can assist you.  We have a 100 percent successful track record in "optimizing" your Google PPC campaign.  Typically, our clients see 20-30 percent more clicks for the same budget, OR clients save 20-30 percent in cost and get the same number of clicks to their site.
We are strong proponents of organic placement but depending on several demographic factors like education level and/or gender of your client base, PPC can be a successful endeavor.  In that case, we also offer our expertise in those kinds of services.
It's been said that as many as 80 percent of Google PPC campaigns don't see a return on investment for the company running the ads.  This is due to lack of knowledge about how to setup the campaign.  ROI on PPC campaigns can also be bad because "marketers" sometimes wrongly think PPC campaigns are a marketing technique that runs itself…NOPE, doesn't happen like that.
To find out if a PPC campaign could benefit your online presence, call us today at  (910) 338-1780.