With today's prevalence of busy lifestyles, productivity and efficiency are a priority for most.  Many people download apps, fill post-its and write to-do lists only to be overwhelmed by the inefficiency (mostly due to clutter) of efficiency tools.  Despite my love of technology, I have a propensity to function better with pen and paper reminders, planners and calendars, so when a friend told me about the "Bullet Journal: the analog system for the digital age" I was intrigued.  
What is the Bullet Journal, and how did it become a thing?
A digital product designer, Ryder Carroll designed the journal because he was frustrated with other ways of tracking his long to-do lists.  Carroll said the traditional ways never worked for him, so he created a way that did.  He wanted his method to be flexible, adaptable and forgiving.  The goal was to make this design teachable.  Thus, the Bullet Journal was born, and in the last three years has skyrocketed into popularity.  Everyone from the busy stay-at-home mom to the over-booked corporate executive can benefit from the journaling system.  
How can one start a Bullet Journal?
The step-by-step process can be found on the Bullet Journal website.  The system is setup to document the past, function in the present and plan for the future.  With that in mind, some of the key parts of the journal are collections, rapid logging, future logs, monthly logs, daily logs, the index.  First, choose a notebook.  Some people like moleskins or composition books.  Whatever you want to use is completely up to you; that's part of the appeal.  
Before you write in your notebook, remember that everything is written with efficiency in mind; these entries are not long, complex paragraphs.  "Rapid logging" is called the language of the bullet journal.  
What's the best part of the Bullet Journal?
The best part is that everyone makes the journal her own.  There are Instagram pages, Facebook groups, blogs and websites dedicated to the journal.  Everyone's BUJO is a persona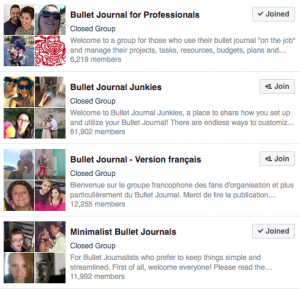 l design created by the owner.  Some Bullet journalists color it, doodle it or just scribble notes and schedules.  
BUJOs are a personal endeavor…
It's so individualistic that it becomes a "Smash Book" for some.  In a smash book, people "smash" various things together.  My friend has a version of this type of BUJO-Smash hybrid.  It started out BUJO, then she tracked habits and encouragements and movie tickets and pictures and quotes and anything else she wanted to keep.
"For the 'smash' part of it, I print out cute little quotes and pictures that fit the theme of self love/ confidence and just stick them in there wherever I feel like they look good," said Lexi L, a bullet journalist in Texas, "And then I've got pages where I put a little calendar in to track something and then added a cute little comic thingy."
BUJOs are the productivity trend that will de-clutter your workspace and keep you organized, healthy, fit, positive, efficent or whatever goal you set.